A multi-directional material handling system.
When loads need to be moved smoothly, precisely and with minimum effort in any direction, ball transfer units can help.
We can recommend and supply ball units off the shelf.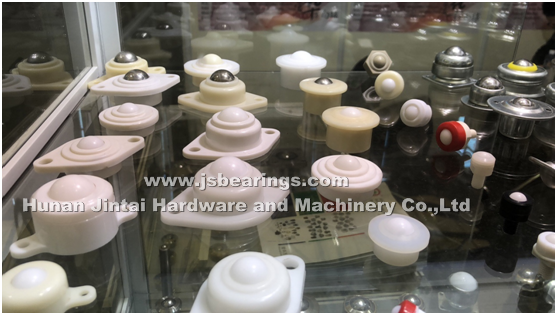 Miniature Ball Transfer Units
Making small-parts transfer and positioning easier Miniature ball transfer units can be used to transfer and position small parts in demanding material-handling settings, including cleanrooms with limited space and operating conditions.
Lightweight, compact, and ready-to-install, the units offer a practical alternative to carts, casters, and related equipment in cleanrooms for many industries, including microelectronics, medical/biotech, semiconductor, and food processing.
Despite their relatively small size, "miniature" ball transfer units are designed for durability, high performance, and long service life. All types feature steel housings (either with steel balls and a flat top, stainless steel balls and a flat top, or stainless steel balls and an angled top) and install quickly and easily with studs.
Hunan Jintai Hardware and Machinery Co.,Ltd. is a professional manufacturer on various kind of bearings in China for over 15 years.We are making all kinds of sliding bearings including ,wrapped bronze bushing,DX POM composite bushing,spherical plain bearing,bimetal bearing,ball transfer units ball bearing,cast bronze bearings,guide slide bearing,DU bushings,SF bushings, and wear plate bearing pad, sintered bronze bushing and sintering parts, graphite bearing, etc.
Export to America,Canada,Poland, Czech Republic, Slovakia, Hungary,Laos, Cambodia, Myanmar, Thailand, Malaysia, Brunei, Singapore,Indonesia, Germany,Italy,Spain,Sweden,,Estonia,Ukraine,Turkey,Austrial,
Switzerland,Liechtenstein,Brazil,Peru,Argentina,Chile,Paraguay,Europe,Poland, Czech Republic, Slovakia, Hungary, Austria,Mongolia, North Korea, South Korea, Japan, Australia, 
New Zealand,Philippines,Switzerland,Liechtenstein,Britain,Finland,Colombia, Venezuela, Guyana, Suriname,Ecuador, Peru, Bolivia,Chile,Argentina, Uruguay, Paraguay,Palau, Federated States of Micronesia,Marshall,Islands,France,Russia,Korea,Malaysia,Thailand,Egypt,Kenya,Somali,
Congo,Zimbabwe,South Africa,etc.