JF series (SWPB,BM,SJ) is backed with high quality low carbon steel, with CuPb10Sn10 bronze alloy sintered on its surface. To decrease abrasion, the surface of alloy is punched with diamond or ball shape sockets for easier oil storage. Outer steel surface may with copper plated.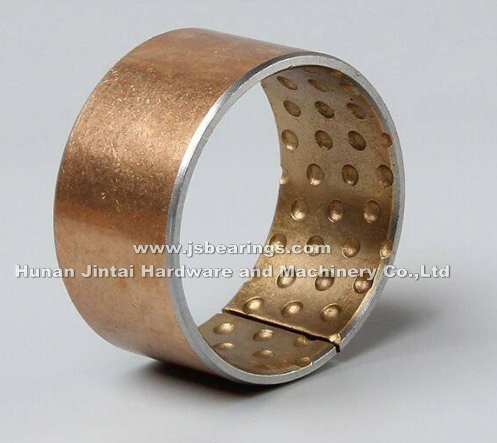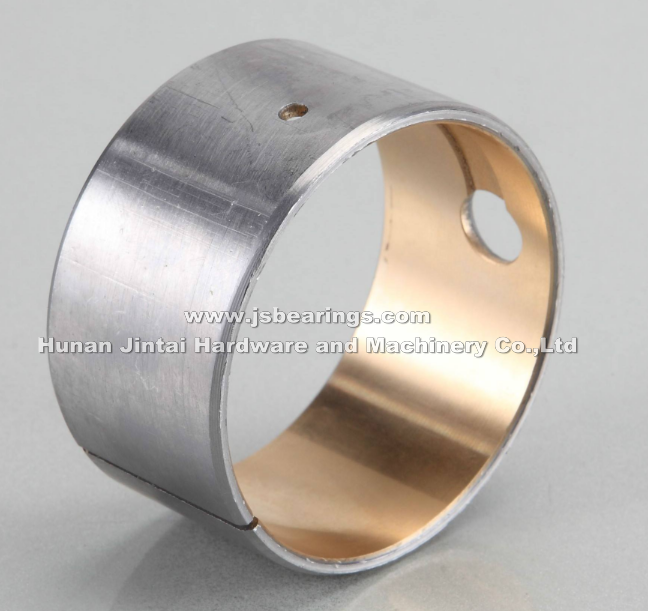 Bimetal-bearings can be manufactured with a thicker lead bronze layer for applications where the bearing has to be machined after mounting. The material of the layer can be fitted to the special needs for the application in question.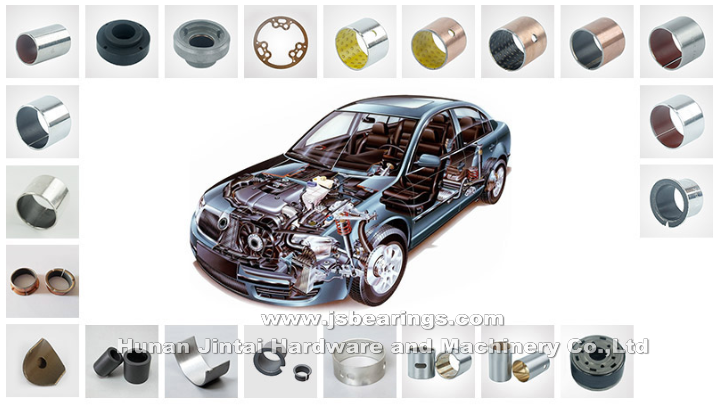 FB series (FB090,FB092,WB700,WB702,WB800,WB802) is made of tin bronze CuSn6, CuSn6.5P,CuSn8P,CuSn8.5 with punched diamond shape sockets or or round holes for oil saving. The bearings are manufactured of a cold formable homogenous bronze, which because of this will obtain exceptional material properties. The execution of the flange permits that the bearing also can carry axial loads. The standard sizes are fitted with diamond-shaped lubrication indents on the bearing surface.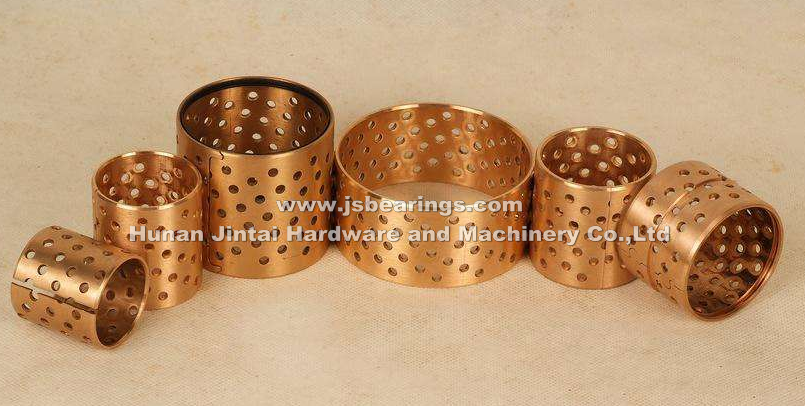 These indents serve as lubricant reservoirs i.a. to rapidly build up a lubrication film in the moment of start and therewith reduce the start friction. The properties of the bronze material, together with the procedure of wrapping and calibration, make this type of bearing especially suitable for constructions, where medium or high loads and relatively slow movements are occurring

Their materials and structures are different:
JF series material:
0.1 - 0.8mm thickness sintered bronze
The rest in steel backed
Bronze hardness: HB30 ~ HB60
FB series material:
Full bronze alloy
Bronze hardness: HB90 ~ HB190

Here are some suggestions to choose them:
1) When the load is heavy, FB bush bronze material is better.
2) When application needs cost saving,JF bush bimetal material is better.
3) When working tolerance can expand big,FB bush bronze material is better.
E.x.: It can still work when shaft and bush tolerance in 1.5mm, 2mm or 2.5mm wall thickness bronze bushing will work for long time, but thin bronze thickness bi-metal bush needs to be replaced very often.
4) When working tolerance is small and strict,JF bush bi-metal material is better.
E.x. It works when shaft and bush tolerance limited in 0.05mm only, both bi-metal and bronze bush working lifetime is short, so JF bush is cost saving when replace often.
5) When working environment is corrosive, FB bush bronze material is better.
6) When working temperature changes big, JF bush bimetal material is better.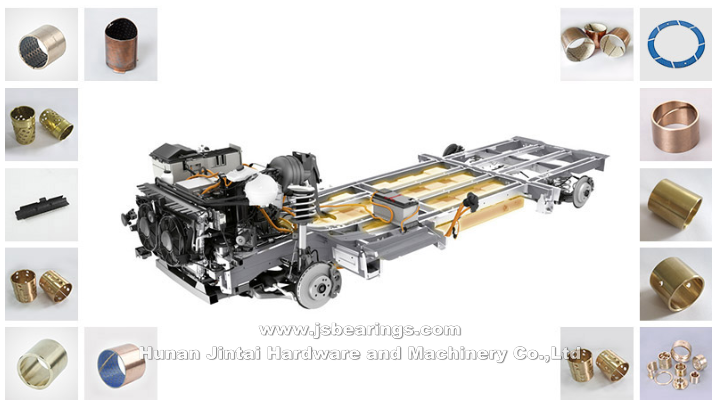 Hunan Jintai Hardware and Machinery Co.,Ltd. is a professional manufacturer on various kind of bearings in China for over 15 years.We are making all kinds of sliding bearings including DX POM composite bushing

,

spherical plain bearing

,

bimetal bearing

,

ball transfer units ball bearing

,

wrapped bronze bushing

,

cast bronze bearings

,

guide slide bearing,DU bushings,SF bushings, and wear plate bearing pad, sintered bronze bushing and sintering parts, graphite bearing, etc.
 
Export to America,Canada,Poland, Czech Republic, Slovakia, Hungary,Laos, Cambodia, Myanmar, Thailand, Malaysia, Brunei, Singapore, Indonesia, Germany,Austria,Switzerland,Liechtenstein,Brazil,Peru,Argentina,Chile,Paraguay,Europe,Poland, Czech Republic, Slovakia, Hungary, Austria,Mongolia, North Korea, South Korea, Japan, Australia, New Zealand,Philippines,Switzerland,Liechtenstein,Britain,Finland,Colombia, Venezuela, Guyana, Suriname,Ecuador, Peru, BoliviaChile, Argentina, Uruguay, Paraguay,Palau, Federated States of Micronesia,Marshall,Islands,France,Germany,Italy,Spain,Sweden,,Estonia,Ukraine,Turkey,Austrial,Russia,Korea,Malaysia,Singapore,Thailand,Egypt,Kenya,Somali,
Congo,Zimbabwe,South Africa,etc.