Typical customer application cases:
A Chinese injection molding machine listed enterprises to develop new all-electric servo injection molding machine, reference to foreign leading enterprises, need to choose high quality self-lubricating bushing, especially injection molding machine mold locking mechanism bushing (connecting rod bushing) due to high pressure, high reliability requirements, must choose high strength self-lubricating bushing.My company according to many years of experience in supporting industry, my company's patent to recommend products, high strength graphite copper sleeve, and according to the customer the design of the machine, the machine other moving parts, such as copper rod set of copper (junior), shot move the guide rod copper sets, crosshead copper sets, thimble copper set of design and product selection and so on, and the use of liner products provides the rationalization proposal and installation, etc.For customers to shorten the research and development and manufacturing cycle, made a contribution.After more than two years of use, very successful.Now customers develop the same type of other tonnage of machinery, all choose our company as a partner, the cooperation between the two sides is very happy.
Injection molding machine with a lot of copper sleeve, there are two plate copper sleeve, connecting rod copper sleeve, crossheadhead copper sleeve, jet copper sleeve (guide column copper sleeve), two plate slip foot copper plate, tail plate copper plate, according to different parts of the work requirements, respectively can choose graphite copper sleeve, high strength graphite copper sleeve, composite liner, graphite copper plate and other products.Different product collocation can achieve the best effect, cost-effective.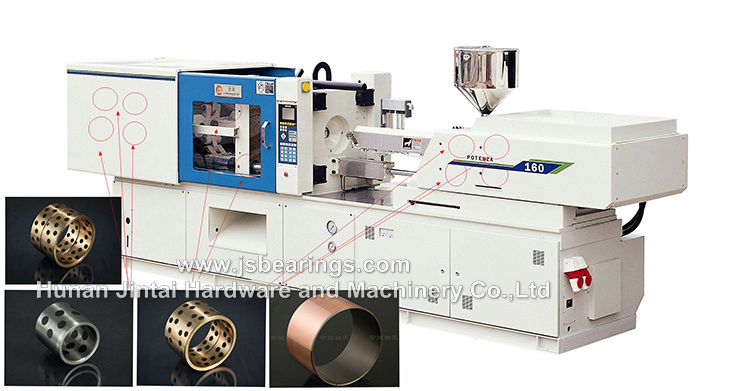 Hunan Jintai Hardware and Machinery Co.,Ltd. is a professional manufacturer on various kind of bearings in China for over 15 years.We are making all kinds of sliding bearings including ,wrapped bronze bushing,DX POM composite bushing,spherical plain bearing,bimetal bearing,ball transfer units ball bearing,cast bronze bearings,guide slide bearing,DU bushings,SF bushings, and wear plate bearing pad, sintered bronze bushing and sintering parts, graphite bearing, etc.
Export to America,Canada,Poland, Czech Republic, Slovakia, Hungary,Laos, Cambodia, Myanmar, Thailand, Malaysia, Brunei, Singapore, Indonesia, Germany,Italy,Spain,Sweden,,Estonia,Ukraine,Turkey,Austrial,Austria,Switzerland,Liechtenstein,Brazil,Peru,Argentina,Chile,Paraguay,Europe,Poland, Czech Republic, Slovakia, Hungary, Austria,Mongolia, North Korea, South Korea, Japan, Australia, New Zealand,Philippines,Switzerland,Liechtenstein,Britain,Finland,Colombia, Venezuela, Guyana, Suriname,Ecuador, Peru, BoliviaChile, Argentina, Uruguay, Paraguay,Palau, Federated States of Micronesia,Marshall,Islands,France,Russia,Korea,Malaysia,Singapore,Thailand,Egypt,Kenya,Somali,
Congo,Zimbabwe,South Africa,etc.